By ColourHouse Event
Thank you for participating - hope to see y in december!


Our amazing global trend partners are back for a new inspiring colour-lifestyle-style-trend-strategy day in a city near you! Now that creativity and colour is brought back into fashion, interior and design, we move forward to the new decade that sets off with challenges on materials, ethics, eco-awareness to dreaming and fulfilment in life. New consumer landscapes emerge as we speak, we like to bring some clarity what that means to design from fashion, interior, industrial design to beauty, health and wellbeing. There will be exclusively produced inspirational films, conceptual stories and design ideas that will help you prepare for the start of the new decade. Autumn/Winter 2019.2020 and beyond. Now the trip begins, 20's here we come!

Book your seats below to the most fruitful trend & design seminar of the season in: Copenhagen 29/5 | Stockholm 30/5 | Göteborg 31/5. Half a day of inspiration on colour, trend, design, lifestyle for women, men, kids, accessories, sports, beauty, interior and product design. Light documentation included. Seminar in English. Select your city below for time schedule!

BOOK-MANY-OFFER
1-4 pers 2.950 sek/p
5-9 pers 2.800 sek/p
+ 10 pers 2.650 sek/p


TREND AGENCY - SPEAKERS IN MAY FOR AW 19-20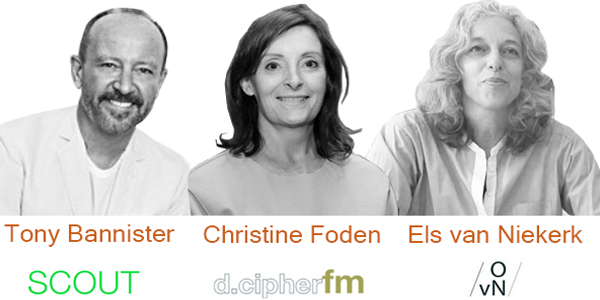 Our speakers give their different point of views on the future range and communication strategy and why. As an attendee, you are given an excellent chance to digest and filter into your perspective and needs. All publications from our speakers to be found on colourhouse.se

Christine Foden, D.CIPHER FM, London
Colour specialist, trend & lifestyle researcher with sensible focus on colour trends, lifestyle concepts, styling, materials, prints& décor and style visualizations incl. home. Curating life through colours, Christine Foden enjoys to challenge beauty versus ugliness, her presentations are always thoughtful, early adapting and translating the sign of the times. With that British sense of humour, the Scandinavian design world enjoys her sharpness in colour trends and lifestyle presentations, that are based on her design studio's three forecast publications: Activate, Women and Men bi-annually. Bespoke books with exclusively dyed colours, enables her distinct colour message of the season.
Els van Niekerk, OVN, Delft, The Netherlands
Els van Niekerk of trend forecast agency OvN/ Oltmans van Niekerk will talk about four macro trends that will drive change and influence how future consumer needs will develop in 2020. It can appear as if we are being guided towards a future but there are choices about which path to take. While the global changes facing companies and individuals are challenging we see alternative opportunities, futures that work for all and bring out the best in humanity. The four topics that Els will be talking about are called Heal the World, Life on Earth, Harmony of Difference and The Next Wave. During her talk, she will go from macro trend to the product level, see introductory film >>

Tony Bannister, SCOUT, Sydney
WHATS NEXT? "-It's a QUESTION we're often asked as forcasters and future analysts".
What's the new colour and fabrication, travel destination, restaurant, food, the new look, desginer or brand? It's a never-ending quest to be on the crest of the wave and on top of the new.But in the race to the future, it's easy to miss the opportunity to treasure and savor the now! To make sense out of all the noise and mayhem, colour and chaos, the changing seasons and the world around us.
SCOUT aims to answer such questions and more, in their AW19/20 presentation, and ask yourself, where is your life heading?
With a conceptual perspective, he is loved for the commercial, clear and inspiring trend forecasts on colour and products for Home, Men, Women and Casual. To present the global and everyday needs in the seasonal future trend presentation incl films, moods, colours & style with music to frame is the signature.