After a period of matt and ultra matte colours, the metallic effects are growing stronger in demand as a contrast to the low key, discrete effects. From wallpapers, shoes and accessories to mobile phones, eyewear, cars, fashion, sportswear & gear, the metallics are growing in interest.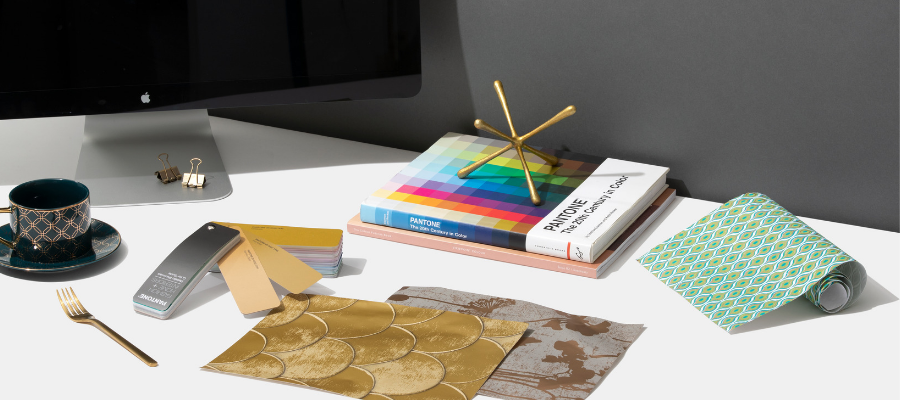 Brass and silver took back the attention from copper a couple of years ago, the battle goes on, as we see many brown and red metallic shades coming back in 2020, perfectly matching the brown, pink and peach tones that has taken a long term grip of consumers mindsets, in fashion, beauty as well as interiors. Coloured metallics and shimmers will be hightlighted now when Gucci among others start decorating its collections again. If you are a minimalist, a natural shimmering tone, like light playing on a wet surface, could be attractive and sensuous.

More than silver PMS 877C
Most companies in design, fashion, interior have identified their metallic colours in Pantone PMS graphic metallic colours, like silver 877C. It works perfectly for prints, graphic design and has been used by many industries globally as a standard for metallics when communicating colour. But for Design we need another type of colour master, with higher pigmentation and coating, like a paint, for maximum metallic colour visualisation, introducing TPM. The need of designers was identified by Pantone® who now introduce 200 entirely new metallic and shimmer colours to the global colour community. These colours are not covered by the PMS metallics, they are beyond those, in fact they are an extension of the TPG colours (where only 7 metallic colours are included). Simply more product design and user friendly through design-production-processes. The system consists of 1 guide, 1 specifier and the opportunity to order all colours in large TPM sheets like an A4, great when you need to make colour evaluations, mood boards and giving samples to production. It is over now, the sneak usage of metallics from the graphic industry, finally the design industry have their own metallics and shimmer colours. A new colour language has been given the design world. We say welcome to Pantone 20-0074 TPM Berry Gloss – yes they have names too – and all the other 199 accompanying shades to be part of our design into the 2020s.

Upgrade your Pantone library with 200 Metallic and Shimmers
The guide/fan is great, in a new format where 1 colour show / page. Easy to quickly match and bring to meetings. The Specifier with tear off colour chips, looks new too, the metallic or shimmer covers the entire page to preserve the quality of the colour, for you to laborate colour combos with. And last but not least, the same format, last SHEETS which makes any metallic or shimmer decision easy, specially with the preprinted colour codes and names at the back. Welcome to enjoy the new TPM system and sheets. Easy to order in our eshop:
Order Pantone TPM system and sheets here
/L.Klarsten
Colour communication questions, we are ready to help, welcome to contact us